The theme of this week's issue is a fill-in-the-blank question: "How should __________ deal with DH?" And while the answers are necessarily context dependent, they all share a common thread: profound enthusiasm coupled with profound ambivalence. The enthusiasm stems from the shared goals of both the LIS and DH communities: "scale-up!" "collaborate!" "make!" "do!" "think in new ways about how to share new information and new knowledge!" And the ambivalence? Well it can best be represented by replacing each exclamation point in the above list with a question mark. How can scale be leveraged to craft one-off projects? Who's collaborating and under what reporting structures or budget lines? What is the impact of the things being made and done? Is this new knowledge or simply new (and more labor intensive) packaging of old knowledge? These are good questions. But they shouldn't curb enthusiasm or shut down the move toward vanguard humanities scholarship…if only because vanguards–by their very nature–can't let good questions derail innovation.
As always, feel free to add comments or questions below! (?)
---
Are Art Historians ready to embrace the digital world?
Jessica Aberle
Last month (May 2012), The Samuel H. Kress Foundation and The Roy Rosenzweig Center for History and New Media at George Mason University issued the report, Transitioning to a Digital World: Art History, Its Research Centers, and Digital Scholarship written by Diane M. Zorich. The report confirmed some of my suspicions regarding digital humanities + art history.
Like some of those interviewed, I think digital art history has stalled since we transitioned from slides to digital images; though some awesomesauce projects do exist—for example, the Plan of St. Gall or Rome Reborn. On a macro level, however, digitization seems to have become be an end rather than a means. Furthermore, we need to think critically about how the ubiquitous two-dimensional image has changed the way students engage with art historical materials and the effect on both visual literacy and our pedagogical methods.
Copyright and the access of images are also barriers to digital art history. Copyright and licensing is a quagmire of confusion, so we tend to pay for images when fair use might be applicable.  This is an expensive and time-consuming endeavor. Zorich proposes a proactive approach to images.  "One change that is deemed critical," she writes, "is the creation of guidelines for the fair use of images in art historical research and publication. Fair use guidelines, if created by a coalition of art history organizations and legal scholars, and endorsed throughout the discipline, are seen as potentially 'game changing.'" Understanding fair use and the creation of best practices would be an essential step forward to digital art history.  College Art Association has collected several documents regarding copyright, fair use, and print publication.
As an architectural historian myself, I also felt the field's general shortcomings on a personal level. The tendencies of art historians to possess a "lack of technogical savvy" and perfectionist attitudes are obstacles for digital art history.  And I will own both. While I am interested in DH, I operate on the fringe of the field. I do have ideas; however, my lack of mad skillz does affect how I think about my research. Moreover, what gives me pause is the fear that a labor-intensive digital project would still be considered peripheral to the peer-reviewed journal article.  Touching on this issue, Zorich writes that some younger scholars, "frustrated by the barriers they have faced in the discipline, have stepped out of academic art history and into alternate academic careers where they have more freedom to experiment with digital technologies." This exodus should be considered a serious loss to any academic department. If we want to ensure the long-term health of our departments, space must be made for innovative thinking, experimentation, and non-traditional scholarship.
The report is the beginning to an important conversation about what art history should be in the 21st century, lest we become, as Zorich notes, "a 'quaint academic backwater' relevant to a select few."
---
#alt-LIS, #ala12, But Mostly DH and Libraries
Zach Coble
In the Library with the Lead Pipe published Micah Vandegrift's piece, 'What Is Digital Humanities and What's it Doing in the Library?' (sound familiar?) earlier this week, which argues that
libraries and DH have the same goals
the two need to collaborate more closely
to accomplish this, librarians will need to reimagine themselves and their skill-sets.
Vandegrift states, "Digital Humanities doesn't have a place in the library. Digital humanists do." In other words, librarians "need to proudly identify themselves as DHers, and fully expect to be regarded as such by peers, colleagues, faculty and administrators, and let the broad work they do engage with that community."
Stewart Varner replied with a useful post outlining what you (yes, you) can do to support DH at your library.
***
The American Library Association annual conference was last weekend. Rather than a sweeping summary of the conference, I'll mention some of the worthwhile groups I connected with:
---
NINES/NEH Summer Institute:  Evaluating Digital Scholarship
Amy E. Earhart
I just returned from the NINES/NEH Summer Institute:  Evaluating Digital Scholarship held June 19-22 at the University of Virginia. We invited department heads from literature programs to attend and discuss how we might, as a profession, evaluate digital projects.  It just so happened that our meeting was at UVA during the upheaval over the ouster of President Sullivan.  After sessions we would run out to the lawn to observe the protests.  I can't imagine a more invigorating moment in which to discuss the future of digital work.
I was very impressed with the department heads that attended the institute. Most were not practitioners, but were interested in learning how to support and vet digital work.  Many could point to one departmental member that worked in digital scholarship.  More importantly, they were able to imaginatively negotiate between the various constituencies involved in judging scholarship for tenure and promotion, from producers, presses, higher administration, colleagues and students.  We ran this same workshop last year, and, given the progress made during the year and the responses of the participants, I am hopeful that digital scholarship is gaining acceptance.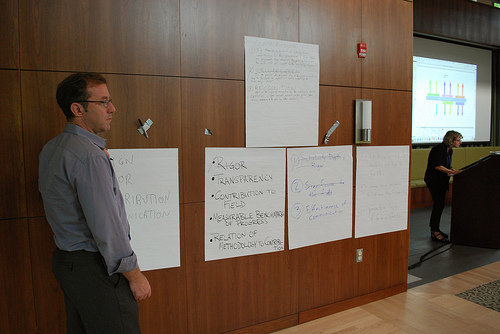 Most telling was the difficult exercise in which we tried to come up with key words that could be used to describe stellar digital scholarship.  At moments this exercise felt like one of those endless faculty meetings where nothing was being accomplished, but our draft of keywords are telling.  The group came up with the following:  rigor, effectiveness of communication, contribution, methodology, goals and scope and creativity.  Obviously our findings are still in draft form, awaiting distillation into a white paper, but making such a list feels like a big step forward.