Transatlantic Reflections on the Digital Humanities
Edward Whitley
There's a new collection of essays on the digital humanities floating around the Internet this week. The Digital Academy at University College Cork has put together a collection of short essays by doctoral candidates titled Digital Arts & Humanities: Scholarly Reflections. It's worth a look.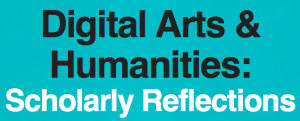 In a foreword to the collection, Professor Andrew Prescott of King's College London presents the essays as a complement (or, perhaps, an antidote) to what he calls "the goldfish bowl of American scholarship" and the "American academic parochialism" that has come to dominate discussions of digital humanities scholarship. Despite this initial waving of the Union Jack, what stood out most for me in this insightful collection was not an effort to challenge the work of digital humanists in the United States (on the contrary, projects by scholars at the University of Virginia and Stanford University figure prominently in the collection), but rather to argue that digital scholarship is better seen as a continuation of traditional modes of scholarly production than it is a radical departure from them.
For example, in an essay on digital history Rachel Murphy writes that "Traditional analytic skills remain at the core of what all historians do, whether digital or otherwise." Similarly, James O'Sullivan writes that electronic textual analysis "is not an approach designed to replace traditional literary criticism, but rather, supplement it," and Sara Goek reminds us in her essay on oral history that "Long before the concept of a digital archive accessible via an internet connection anywhere in the world, [we recognized] the importance of access as well as preservation."
This measured, balanced approach really appeals to me: digital scholarship is new and exciting, but it isn't necessarily a radical departure from the scholarly practices that have preceded it. And maybe that's where the transatlantic critique from Prescott's foreword comes into play. Are U.S.-based scholars guilty of over-the-top rhetoric that presents digital scholarship as more than what it actually is? Are we so eager for "the next big thing" that we resort to the kind of hyperbole that ends up distorting the true scope of our accomplishments? I've appreciated William Pannapacker's thoughtful reflections on the rise of the digital humanities as "the next big thing" over the last three years (here, here, and here), and given that Pannapacker is a Whitman scholar living in the Midwest–can you get more American than that?–it's probably not fair to indict all U.S.-based scholars of rhetorical excess. Nevertheless, Prescott's critique is worth considering as digital humanists in the U.S. continue to work in a culture that values novelty and change more than tradition and continuity.
---
First Year Seminar: Prospective
Kathryn Tomasek
For the first time in a long time this fall, I'm teaching a first year seminar, and I've taken the opportunity to try out the transcription and markup module I've been using for the past couple of years with a group of entering students. The module is one I developed in collaboration with Patrick Rashleigh, a Humanities Technology Liaison in our Library and Information Services and with Zephorene L. Stickney, Wheaton College Archivist and Special Collections Curator.
We have used the module several times over the past few years, first with small classes of students in the History department's methods course for majors, and once last year with a larger group of students in the course on U.S. Women, 1790-1890. The module is meant to give students an opportunity to decipher nineteenth-century script through transcription, learn a bit about daily life in a town with a mixed rural/industrial economy by spending some time with a storekeeper's day book, and practice XML markup with a constrained tag-set. A pdf of the original assignment can be downloaded here.
This semester, the FYS students will be working on the module in the context of a course focused on the topic "History and Culture in the Digital Age." A pdf of the syllabus is linked here. My goal for the course is to encourage students to think about how their digital experiences might change if they were to learn markup and/or programming. I'm considering offering them the option of creating an iOS app as part of their semester research projects.
Are others doing this kind of work with first-year undergraduates? I'd welcome discussion of your experiences and observations. I hope to report back about this course once or twice as the semester develops.
---
On Hallowed Halls and Anvils
Korey Jackson
I recently transitioned from the University of Michigan's MPublishing team to Anvil Academic, a digital humanities publishing accelerator sponsored by the Council on Library and Information Resources (CLIR) and the National Institute for Technology in Liberal Education (NITLE). It's an exciting move for a lot of reasons. The organization is brand spanking new and has all the start-up vigor of the grand experiment on a small (but galvanized) scale. At the same time, it's also public sector, public-minded, and non-profit, so it lacks some of the slicked-back marketeering of its private sector cousins, while still maintaining the same coltish spirit.
And, quite honestly, it's fun. We're right now in the process of crafting and refining our vision statement—an exercise that's part prophesying and part organizational self-analysis (and, despite seeming like so much corporate mumbo-jumbo, it's one I'd highly recommend to anyone embarking on a new venture or project).  Getting to do this kind of forecasting and future-hoping is energizing on a level I hadn't anticipated. A part of me I didn't know existed really digs the entrepreneurial chutzpah that it takes to conceive of (and conceive of executing) an organizational future.
That said, some of this professional excitement is alloyed by just the slightest bit of personal angst. Not because I'm worried about the future of Anvil, which has all the signs of becoming a core function within DH and new-model scholarly communication. No, it's a feeling that has more to do with institutionality…or lack thereof. Because today is the first day-after-Labor-Day in over a decade that I've been unaffiliated with the comforting brick-and-mortar of higher-ed. It's the first time I've ever looked at my university ID as scrapbook fodder and not a crucial piece of wallet matter.
And, frankly, that's left me feeling a little unmoored.
There's a sense of safety one gets from institutional allegiances—the kind of "we're-all-in-this-together-and-there-are-a-lot-of-us" security that lies behind even the crassest school spirit. There's also a sense of safety that comes with the storyline academic departments and divisions offer: the path-to-goal paradigm that exists as an entrenched part of most institutional cultures. Put more simply: one knows what one needs to do to get where one wants to get (at least hypothetically). There are set accomplishments and set tasks that, one by one, get checked off on the way to those accomplishments. This is reductive, of course: service requirements, teaching requirements, tenure requirements, and especially the more abstract "productivity" requirements of the successful academician are never as simple as checking boxes on a bucket list. But the requirements are, at the very least, a known quantity.
With Anvil, we're just now in the process of list making and goal setting. There's no preset recipe for success, especially not within the ever-dynamic double boiler of digital humanities and academic publishing. Like I said, a big part of me finds this energizing. But it's an energy that's closer to inchoate ball lightning than well-mannered circuit board. And that lack of walls, channels, and known checkpoints is going to take some getting used to.
How about other "alt-ac" or "alt-track" readers? What have been your experiences in making the shift from higher-ed to outer-ed, or from your home department to a separate division within the college or university? Let us know in the comments below!