We're proud to announce the latest title from digitalculturebooks, Andrew Herscher's The Unreal Estate Guide to Detroit. The first sustained study of Detroit's alternative urban cultures, The Unreal Estate Guide to Detroit initiates a new focus on Detroit as a site not only of urban crisis but also of urban possibility.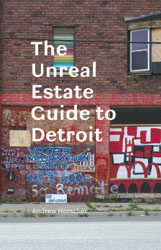 The Guide documents art and curatorial practices, community and guerilla gardens, urban farming and forestry, cultural platforms, living archives, evangelical missions, temporary public spaces, intentional communities, furtive monuments, outsider architecture, and other work made possible by the ready availability of urban space in Detroit. The Guide poses these spaces as "unreal estate": urban territory that has slipped through the free-market economy and entered other regimes of value, other contexts of meaning, and other systems of use. The appropriation of this territory in Detroit, the Guide suggests, offers new perspectives on what a city is and can be, especially in a time of urban crisis.
This work will be of interest to readers in history, public art, architecture, urban planning, American studies, and anyone with a desire to see Detroit as much more than a textbook example of urban decline. As Herscher's Guide suggests, Detroit is a site for creation (either by choice or necessity) and change, not just shrinkage and decay. While the trope of "ruin porn" might represent Detroit as an empty landscape of infrastructure being reclaimed by nature, the city is active, alive, and far from abandoned.
Andrew Herscher is Associate Professor of Architecture at the University of Michigan's Taubman College of Architecture & Urban Planning. He also co-founded the Detroit Unreal Estate Agency, an open-access platform for research on urban crisis using Detroit as a focal point.
The Unreal Estate Guide to Detroit is available to read online or can be purchased from the University of Michigan Press.