About us

digitalculturebooks is an imprint of the University of Michigan Press dedicated to publishing innovative work in new media studies and digital humanities. We began in 2006 as a partnership between MLibrary and the Press, taking advantage of the skills and expertise of staff throughout Michigan Publishing. Our primary goal is to be an incubator for new publishing models in the humanities and social sciences.
This means:
developing open platforms that make openness part of the scholarly peer review process
establishing a model for press-library collaboration at Michigan and elsewhere
showcasing and extending Michigan's leading role in the development of digital resources
encouraging and participating in a national dialogue about the future of scholarly communication
digitalculturebooks content is available to view for free online and for purchase in print and ebook format. Our titles are typically produced under an Attribution-Noncommercial-No Derivative Works 3.0 Creative Commons (CC) License, which allows for specific, noncommercial use. So as long as you attribute your use properly and follow the terms of the Creative Commons license, you don't need to contact us for permission to use these works (although we would love to hear about what you're doing, or if you have suggestions for other scholarly information to include on the site).
If you'd like to reproduce digitalculturebooks content beyond the CC license permissions, say for commercial reprints or coursepacks, please see the information about permissions and reprints listed on the University of Michigan Press website or contact digital-culture@umich.edu with questions.
About Creative Commons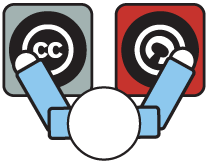 Creative Commons (CC) is a non-profit organization that created a set of simple, easy-to-understand copyright licenses. These licenses carve out a spectrum of options between the "all rights reserved" of traditional copyright and the rights-free public domain. Before Creative Commons, there was no easy way for creators to share their rights, even if they wanted to. The "Some Rights Reserved" model helps copyright holders to share their work easily without giving up all their rights, and it allows everyone to find work that is free to use without permission.
By marking copyrighted content as available for reuse, authors can offer the academic community and the public a valuable contribution to a growing set of scholarly resources that are free from traditional permissions obligations.
The Creative Commons Attribution Non-Commercial No Derivatives license allows anyone to use the work—to copy, distribute, display, or perform it—as long as the user gives proper attribution to the creator, does not make any changes to the work, and as long as the use is non-commercial.